Updates List:(April 16th) The Change is COMING!
...And the DIMENSION will never be the same...
The Groupies List is updated once again!
The Soulmates Award is back to its popular original design.

The Iolausian Wheel of Torture fanfiction site is now run by me.
Update your links! The site's new home is HERE!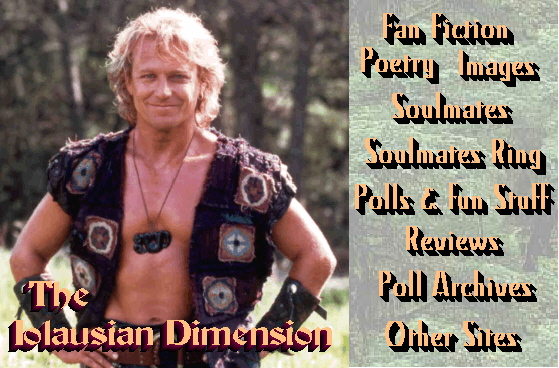 You Can Also Journey A Path Here:
Want a chance to win a free custom banner for your site? Sign my book!

Sign The Iolausian Groupie Scrolls
View The Iolausian Groupie Scrolls
H:TLJ & X:WP Episode Info:

The SciFi Channel airs H:TLJ at 5pm weekdays (Eastern Time).
The SciFi Channel is now airing H:TLJ's 2nd Season! Oh, yeah...
The SciFi Channel now has "Herc & Xena Tuesday" (7pm-11pm Eastern Time).

The film "Jubilee" which Michael directed now has its own online home.
Read about the cast, crew, and more at the Official Jubilee Website.

Hugs to the Goddess Astrea, Beckers, Ceallach & Gabbygab for their wonderful pics. Some captures come from the Altar Of Iolaus and Tom's Xena Page. Several graphics on this page were created by me and should not be used without permission.
All images and trademarks of H:TLJ and X:WP are owned by Pacific Renaissance, MCA TV and Universal Pictures. This page is in no way affiliated with these companies. It's for obsessed fans, for fun!:-)

For ABL - Thanks for the memories...

Hercules and Xena Banner Exchange

Paul R. Coyle's Words of Wisdom: I swear, officers! They said they were eighteen!